How much should I take?
Person to person, the correct CBD dosage can vary. It can depend on a range of factors. That's why we've designed our CBD supplements to make dosage easier than ever. For example, both our pure and broad spectrum CBD oils have graduated pipettes, allowing you to accurately control the dosage. You may need to try the "step-up" method, taking slightly more each day until you find the right amount, to find the dosage that works best for you.
The amount of CBD you take could depend on a range of factors, including:
your body weight
your individual body chemistry
the concentration of CBD in each tablet, capsule, drop, or gummy
A good starting point could be 50mg per day. This would be a full pipette of one of our 1500mg CBD oils, or a single 50mg gel cap from our 1500mg CBD capsules. It's important to give the CBD a week or so and always use food supplements as part of a varied diet and healthy lifestyle.
How to calculate dosage:
Products such as CBD capsules or CBD tablets will have an exact single serving dosage, which makes it super easy. For example our 300mg CBD gummies have 10mg per gummy, so you can easily use the "step-up" method.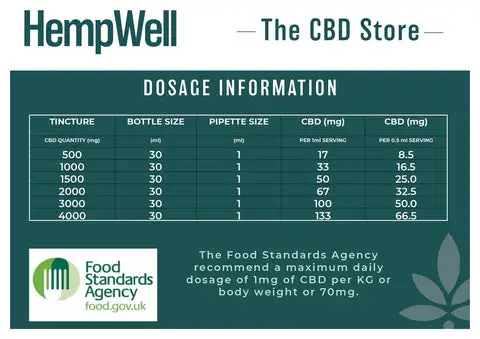 The FSA in the UK recommends the maximum daily CBD dosage is no more than 1mg per KG or 70mg. The FSAI makes no specific recommendation. Please consult a health professional before use if pregnant, breastfeeding or taking medication. This food supplement should be taken as part of a varied diet and healthy lifestyle. This product is a food supplement and is not intended to diagnose, treat, cure or prevent any disease.